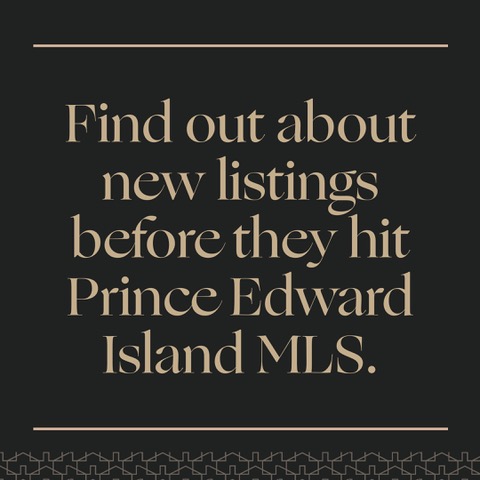 Wouldn't it be great if you were made aware of new real estate listings before anyone else?
‍
This includes all areas of Prince Edward Island, including Charlottetown, Summerside, Stratford, Cornwall, West Royalty and Brighton. Also, beautiful rural communities like Souris, Monteque, Murray River, Murray Harbour, Georgetown, Kensington, Kinkora, Alberton, O'Leary and Tignish.
Now you can! My system will email you directly with new listings from all the agents and brokers in PEI the moment they are posted and before they arrive on REALTOR.CA®.
You receive only listings that meet your criteria, and you can opt out at any time.
Allow me to clarify: There are basically two MLS® systems in PEI:
‍
- The MLS® system that the agents and brokers use internally. It is called Paragon.
- The MLS® system the public uses that is called REALTOR.CA®.
‍
The Canadian Real Estate Association (CREA) runs and operates REALTOR.CA® and it is by far the best source of accurate real estate listings in Canada.
‍
Here is the interesting difference:
‍
The one the agents use is in real-time, and REALTOR.CA® is not. The data from Paragon is uploaded to REALTOR.CA® and hundreds of other websites over time.
Here is how you can get the inside track and receive access to real-time MLS® data the second it is posted on the agent's MLS®:
Contact your PEI Real Estate Agent and give them your search criteria including the following:
‍
What exactly are you looking for, including:
‍
- house, cottage, condos, land, businesses, apartments or commercial property?
- price
- area(s); including north/south/west/east boundaries (community names, highways, streets, routes, shores)
- amount of land
- waterfront (Y/N)?
‍
PLEASE ANSWER ALL QUESTIONS. None of these questions are optional.
‍
IF YOU HAVE MORE THAN ONE SEARCH CRITERIA, PLEASE ANSWER THE ABOVE QUESTIONS MULTIPLE TIMES.
Once this information is emailed to your agent, you can expect the information instantly. You will receive every listing that meets your criteria from every agent on the Island. There is no need to contact more than one agent. Isn't that amazing?
You may also discontinue the emails at any time with the click of a mouse.
Additionally, some agents will have mailing lists for preferred clients that may give them a heads-up before the property for sale is even listed. Ask to join this list as well. Our weekly mailing list can be joined here:
‍
‍
When you receive the new listings, be sure to flag the ones that are favourites with a thumbs up and use a thumbs down for the ones you don't like.
‍
Enjoy, and happy house hunting.